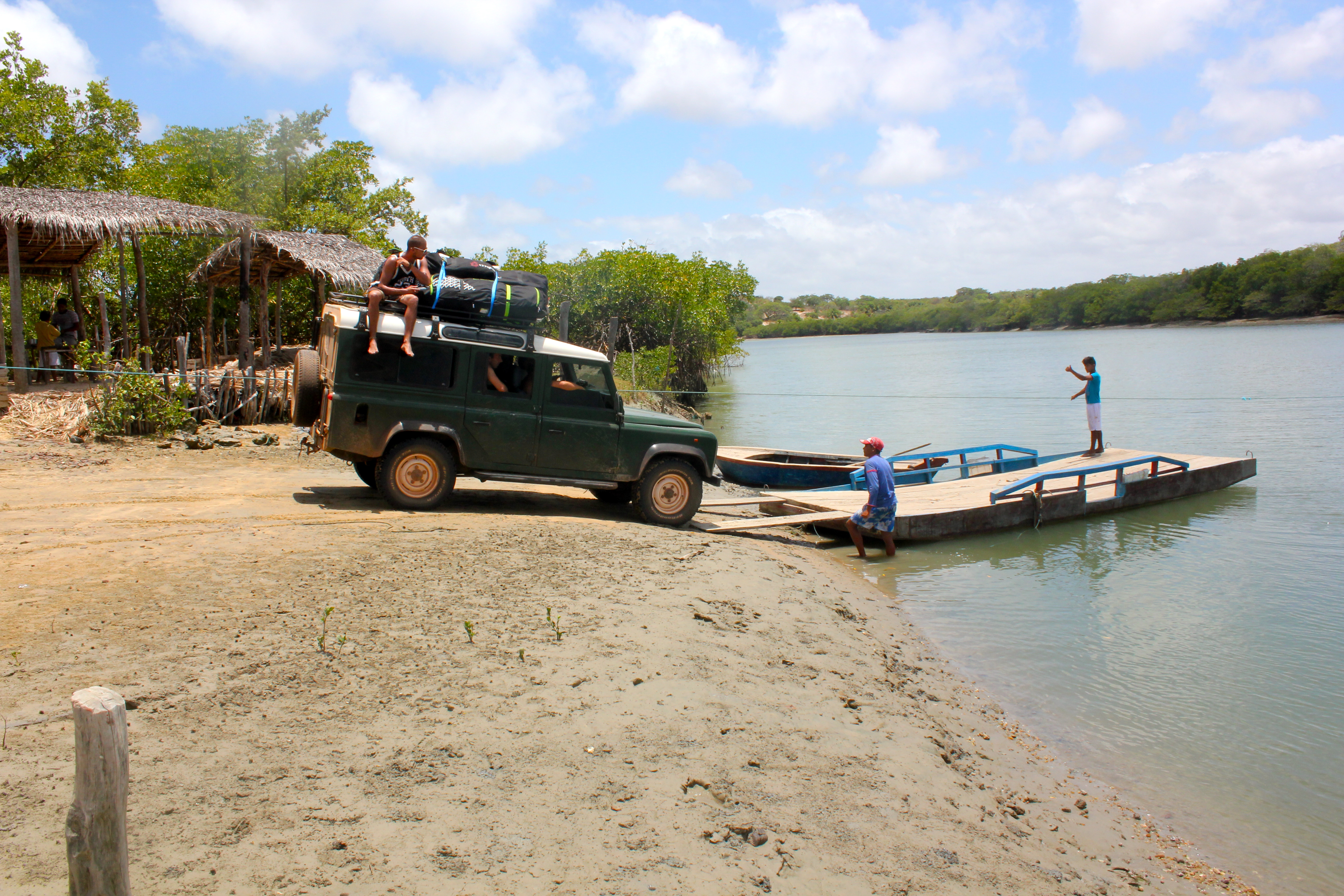 Explore almost 800km of paradisiacal beaches, National Parks, incredible lagoons, and take the Kite trip of your dreams!
LONG KITE TRIP
Itinerary (10 to 15 days) – From Cumbuco to the Lençóis Maranhenses
Leaving Fortaleza from the famous beach of Cumbuco, the itinerary includes sailing at some of the most famous kitesurfing spots on the coasts of Ceara, Piauí and Maranhão, passing along paradisiacal beaches, lagoons, rivers, mangrove swamps, the famous Parnaíba Delta and ending at the Lençóis Maranhenses National Park.
Itinerary – The long itinerary is the result of more than 10 years of experience on kite trips! This is the kite surf trip of your life! Imagine yourself on a fully equipped Land Rover on a trip that passes through 3 states on the Brazilian coast, exploring and discovering more than 700km of beaches and sailing at completely isolated spots without any crowds at all! There is no rush! This is our Long Kite Trip! Take a look!
(Itinerary Proposal)
Day 1. Cumbuco to Paracuru – Passing along the beaches of Cauípe, Pecém and Taíba, the first day includes downwinds of up to 40 km, where we make stops at the famous Cauípe and Taíba Lagoons.
Day 2. Leaving Paracuru to Flexeiras – Passing along the beaches of Lagoinha and Guajiru, this stretch is a beautiful 50 km downwind, going by the Jegue Lagoon in Lagoinha and arriving for the sunset at Flexeiras Beach. There we have great lodging options and traditional beach front restaurants!
Day 3. Flexeiras to Icaraizinho de Amontada  -  Passing by the beaches of Emboacas (famous for its waves),  Mundaú, Baleia and Caetanos, this portion is a fabulous downwind of 50km! Paradise! This part of the trip is really isolated! There is no cell phone or internet coverage and the sailor will have the opportunity to experience nature in its primitive state! There are kilometers of beaches for you to explore and find the spot of your dreams!
Day 4. Icarai de Amontada to Jeri – Crossing the world famous Ilha de Guajiru and Préa Beach, the sailor will have the opportunity depending on his level and experience, to arrive at the beach in Jericoacoara under sail, passing by the famous Pedra Furada and finding a scene out of a film on arrival, with capoeira, caipirinha stands and a lot of forró!
Dia 5. Jericoacoara National Park – On the fifth day we will explore the ecological sanctuary of Jeri, considered one of the 10 most beautiful beaches in the world. The region has unforgettable attractions, like its crystal clear lagoons, ecological excursions, dunes as far as the eye can see, etc, etc...   And for those who are still keen on sailing, don't worry, our trips in Jeri always ends (or begins!) with a sail in a very special place!
Day 6.  Jeri to Guriú -  For our sixth day, we do a mind blowing downwind of approximately 25 km, passing spots at Guriú, where we cross a beautiful slow moving river. We return to Jericoacoara to catch the sunset there.
Day 7. Jeri to Barra grande (PI) – Passing along the beaches of Tatajuba and Camocim, we continue in the direction of the Piauí coast, where we arrive at magnificent Barra-Grande Beach, which has perfect flat water conditions right in front of the inn!
Day 8. Barra grande to Macapá – Excellent downwind heading towards the natural pools of Macapá, one of the best flat water spots in the region.
Day 9. Barra grande to the Parnaiba Delta-
Day 9. Parnaiba Delta to the Lençóis Maranhenses (Atins) – Passing through the small Lençóis (vast stretches of dunes with fresh water lakes between them), we go along 30 km of beaches in the direction of Caburé, where we leave the Land Rover and take a "flying" boat to our next destination for spending the night: Atins.
Day 10. Atins – Free day for visiting beautiful natural pools of the Lençóis and sailing in Atins, with the possibility of a 10 km downwind.
Day 11. Atins to Barra Grande
Day 12. Barra Grande to Jericoacoara
Day 13. Jericoacoara to icarai de Amontada
Day 14. Icarai de Amontada to Paracuru
Day 15. Paracuru to Fortaleza
s: This is merely an example of an itinerary that was developed specifically with the objective of getting the most out of a kitesurf trip. We are open to proposals and modifications! No stress!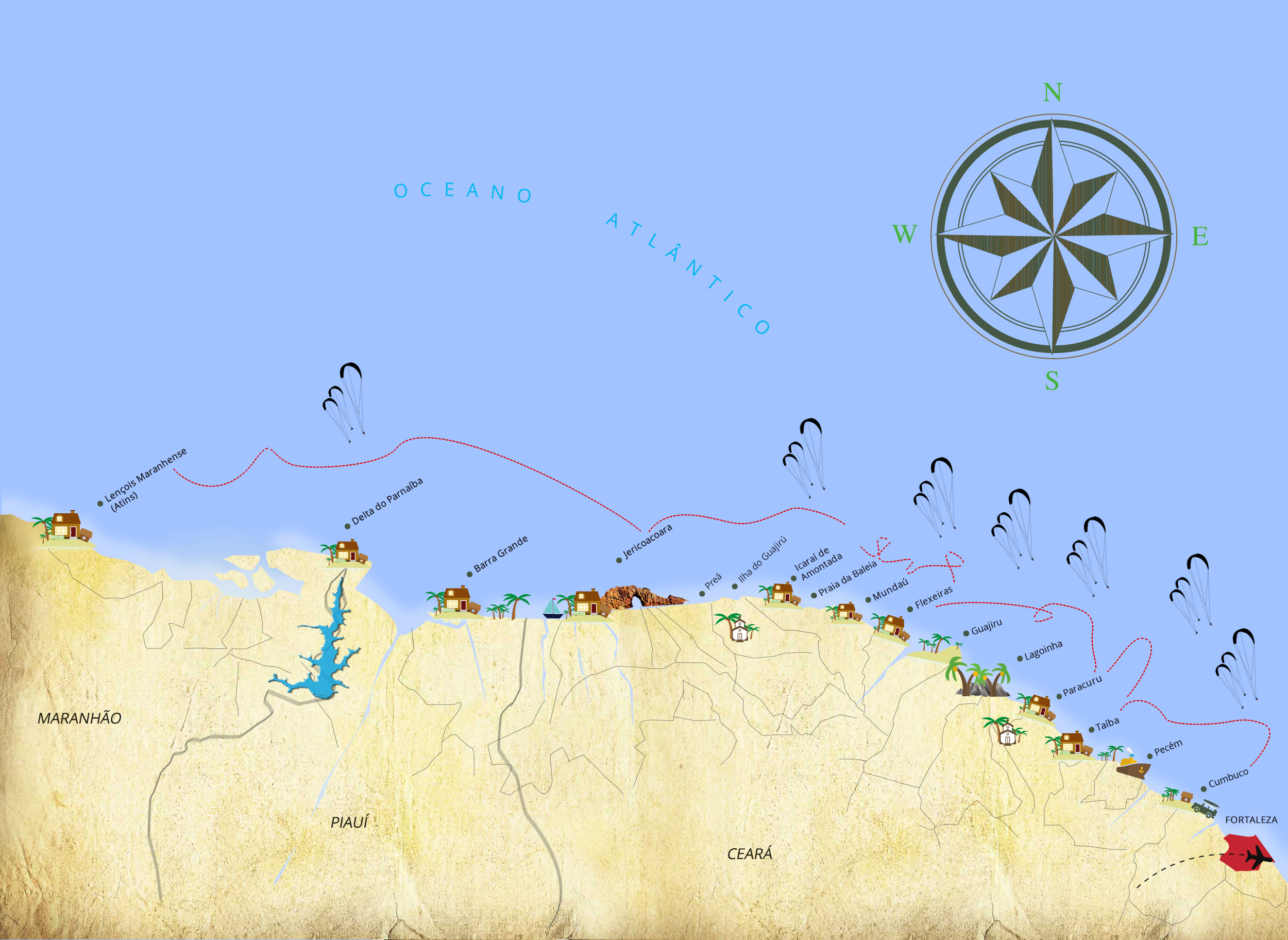 Kite spots
Cumbuco –  Located 35 km from Fortaleza International Airport, the beach is one of the most sought after by kiters from all over the world and has good beach front infrastructure, allowing for comfortable sailing! It boasts the world renowned Cauípe Lagoon, perfect for freestyle. However, during the windy season it is highly disputed territory. The town is quite a tourist location and frequently hosts national and international kite competitions. The dunes and lagoons that encircle Cumbuco make this fishing town a natural amusement park. It is a place full of sand and water activities, like jangada rides, dune buggy excursions, "skibunda," etc.
Taíba - Taíba Beach is 60 km from Fortaleza and is a small coastal paradise in the state of Ceará.  It has beautiful beaches with natural pools in its rock formations, cliffs, dunes and lagoons. It has little urban infrastructure but its great natural attractions make Taíba ideal for Surfing, Kite Surfing, Wind Surfing and Sand Boarding, or for people who wish for a tranquil place without much noise, it is great for being in close contact with nature. Like Cumbuco, it also has a lagoon which is perfect for freestye, but can also be crowded on weekends.
Paracuru – By far the best wave spot in the state of Ceará! Located 90 km from Fortaleza, it is a town with beautiful beaches and good hotels, inns restaurants and beach restaurants. It does not have beach front hotels, which makes it harder to get to the beach but the effort is worth it due to the excellent conditions for sailing with flat water at low tide and waves on the outside!
Lagoinha - Located 124 kilometers from Fortaleza, near Paracuru, Lagoinha Beach is one of the most beautiful in the state of Ceará. It is 15 Km long with a wide swath of fine dark sand, fresh water lagoons, coconut palms and a breathtakingly beautiful green sea. The "Jegue Lagoon" offers perfect conditions for learners and practicing freestyle, due to its being shallow.
Guajiru -  180 km from Fortaleza and 35 km from Trairi is a fishing village with white sand and fish weirs located in the municipality of Trairi. It is a small village with about 800 inhabitants from 140 families whose houses stretch down a piece of land between the beach and the dunes and who mostly still do traditional fishing. The village has excellent beach front inns and great flat sailing conditions at low tide, with waves at mid-tide.
Flecheiras- Cozy Flecheiras Beach is one of the most highly recommended destinations on the coast of Ceará for people who seek beautiful countryside, tranquility and good infrastructure. It is 130 km from Fortaleza and is a paradise of coconut groves, good winds, natural pools as well as being more rustic and less crowded than many other beaches in the state, yet it offers comforts. The beach is a large bay, which protects the little village from the winds, however 2 km outside the town, the wind is perfect, offering good flat conditions, especially at low tide.
Emboacas - Emboaca Beach is 10 km from Trairi on a good asphalt road. It is also possible and a lot more fun to go by the beach when the tide is out. The town lies between the beaches of Fleixeiras and Mundaú. It is a small village shaded by coconut palms with around 400 inhabitants, who are mostly traditional fishermen. Most of the houses are simple fishermen's homes. There is no hotel infrastructure but its proximity to Flexeiras makes this beach an excellent option for sailing without crowds!
Baleia - Baleia Beach in the state of Ceará, is one of the best preserved coastal places in the state, surrounded by coconut palms, dunes and calm, transparent waters. It is a little paradise that invites visitors to relax. Located 140 km from Fortaleza, Baleia Beach is great for tourism because of its unequalled natural beauty peppered with Jangadas and a small fishing village, which preserves the simplicity and charm of the village people. The beach has no nightlife and is almost deserted during the week. It has beaches protected by a coral barrier forming natural pools, good for freestyle, however in some parts of the bay the wind can be irregular, but it is nothing that hinders tranquil sailing.
Icaraí de Amontada - Icaraizinho, as the beach is called by people from Ceara is a destination for those who want to escape from the world and get away from it all. There is no cell phone signal here. However, for those that cannot live without being connected, some inns offer wi-fi connections. The little town is charming and has tasteful inns as well as excellent conditions for kitesurfing and windsurfing!
Ilha do guajiru - Is a small strip of sand (considered to be an island) located in the municipality of Itarema. It is perfect for sailing and has become one of the most visited tourist spots in the region. There is no construction on the island but at Barra Beach, located on the "continent," there are hotels, inns and beach restaurants, all at the edge of the "arm of the sea," facilitating the lives of the sailors! The beach has excellent flat water conditions, especially during full and new moons, when the sailing area is even larger due to the rise in tides.
Preá Beach - This is the gateway to the Jericoacoara National Park, and it is internationally known for its hotel structure, specialized in receiving sailors from all over the world. The winds are by far the strongest in the whole state, easily going over 30 knots, principally in the months of September and October. The village is located in the national park and is only 12 km from the center of Jericoacoara, which makes it a perfect downwind jump off place for going to Jeri!
Jericoacoara - Located approximately 300 Km from Fortaleza, Jericoacoara, or  simply Jeri, is an ecological sanctuary. It was considered one of the 10 most beautiful beaches in the world by the Washington Post. In 1984 it became an Environmentally Protected Area (APA in Portuguese), thereby preserving its natural beauty in an almost untouched state. Giant moving dunes, coconut groves, crystal clear lagoons, mangrove swamps, caves, and protected and ocean beaches, combine aspects of the hinterlands and the coastline in this ancient fishing village. In 2002 Jericoacoara became a National Park, reaffirming its importance for tourism in Brazil.
Barra grande(PI) - Barra Grande, in the state of Piauí, is one of the most sought after beaches for those who want tranquility in a paradise that has not yet been discovered by mass tourism. It is also a destination for those who like adventure sports due to its great ecotourism potential. It has great flat water and offers downwinds in the direction of the river and the village of Macapá.
Delta do Parnaíba(PI) - In the heart of the "Route of Emotions," which includes Jericoacoara and the Lençóis Maranhenses, the Delta of the Parnaíba River is a spectacle in itself. Located in the extreme northern part of the state of Piauí, on the border of the state of Maranhão, it is the only delta in the Americas that sends its waters into the open sea and the third largest in the world. Its branches formed by the river before it meets the sea make up an archipelago of more than 75 islands, dunes, fresh water lagoons and an exuberant tropical forest that presents a rare spectacle prepared by nature.
Caburé(MA) - The small village of Caburé is near the mouth of the Preguiças river, set in the sand with friendly inns and small chalets. By taking a short walk it is possible to go to the beach or take a swim in the river. Excursions on a "flying" boat on the river guarantee adventure and great pictures.
Atins (MA) -  What a place! Atins is a small, quiet, beach village in the Lençóis Maranhenses, where the streets are made of soft sand, a place that is practically without cell phone or internet coverage and very down to earth, with great energy!  It has good inns for a place that is undiscovered. Sailing conditions are excellent, principally in the mouth of the Preguiças River!
Deixe seu comentário aqui